.... and it's actually on a Friday! Can you believe it??? ;-)
Without further ado, I present this week's version of
Friday's Feast
. Join us in playing, click on the link, and leave a message so we can find you. You can also let us know here so we can go and enjoy playing with you on your blog.
Appetizer
Name something you think is "the best."
My family, to be sure. I have the best husband, the best kids... what more could any person ask for?
Soup
On a scale of 1 to 10 (with 10 highest), how stressed are you today?
maybe a negative 5? Unless things are manic around here, I rarely get stressed. We stay very busy with our work and there have been times I would get a bit depressed because I couldn't seem to find time for my writing. I've been getting up a little earlier, though, and doing the writing... so that's working out well. I think having the best husband (see number one) is one of the key's to remaining relatively stress free.
Salad
What kind of cleanser do you use to wash your face?
I recently discovered
Age Perfect, by L'Oreal
.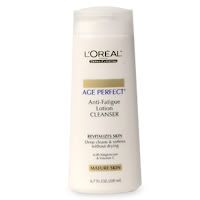 It feels so luxurious on my face and it smells good to boot!
Main Course
Tonight is a blue moon! What is something that you believe only happens "once in a blue moon."
Hmmmm... eating fried oyster po'boys and not putting on the weight you had diligently been losing? Nope.. that's not it. Trust me.. it happens EVEN in a blue moon! Sigh. If you are ever in Apalachicola, Florida, go to The Grill and try it. If you like oysters... which I do!
Dessert
When was the last time it rained where you live?
We actually had our first rain since February 1 yesterday afternoon. It was wonderful. I wanted to get out and play in it! And, they are predicting afternoon thunderstorms tomorrow afternoon as well. Let's hope. Our county had just instituted a Category 4 response to the drought as far as watering goes. Fortunately, home gardens are exempt, so my tomatoes, peppers and herbs are doing well. I have the feeling I'll be making lots and lots of salsa in a few months. If you want a jar, let me know!