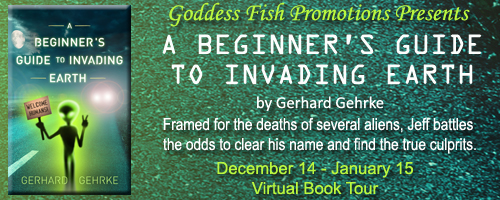 This post is part of a virtual book tour organized by
Goddess Fish Promotions
. Gerhard Gehrke will be awarding a $10 Amazon/BN GC to a randomly drawn winner via rafflecopter during the tour. Click on the tour banner to see the other stops on the tour.
The View Inside My Writing Space
My writing space is an exercise of compromise.
Other random papers include a tax binder, a copy of PC Gamer, and a clipped magazine article on fusion that need to be filed. Scraps of paper have notes on them. One flier from our local sanitary district has a rough short story outline and a brainstorm list of alternate titles for my second novel which might see the light of day in 2016.
What would you do if you found a dead alien on a lonely highway?

Was it an accident, sabotage, or murder? And why is everyone blaming Jeff?

The extraterrestrials aren't waiting for answers. They want revenge. And Jeff isn't ready for company.

His only hope is an outcast mechanic from another world and a woman who might do anything to get off planet, including selling out her own kind. Jeff has to get to the bottom of why there are so many alien bodies piling up and who is really responsible.

A science fiction adventure novel, A Beginner's Guide to Invading Earth tells the story of a reclusive ex-computer programmer who is the unwitting central figure of a plot to keep humanity from ever making first contact.
Enjoy an excerpt:
First contact with the humans wasn't going as planned, as was obvious by the rank smells that choked the air of the alien visitorsʹ craft. But no one called them aliens where they came from.
Seven little Greys, short bipeds with large heads and big eyes and delicate limbs, sat in the flight seats of their ship's crew compartments and listened as the Mission Commander lectured them from the Command Module. The harangue lingered in the air, not as words or even sounds but as a smell, a ripe one replete with pheromones and scent packets that the Greys used to speak with one another. A new string of curses from the Commander's glands smelled of licorice. The Mission Commander composed itself. It wiped sticky sweat from its hairless frontal lobe.
The lights and displays in front of the seven crewmembers blinked and flashed. No one would so much as touch a button until the Commander was finished addressing the crew.
"I'll hear no more of it," the Commander said. "We're on the human world. We go forward. Probability calculations for success show at 100%. The computer will be trusted."
About the Author:
Gerhard Gehrke studied film at San Francisco State University. He wrote and produced several shows for community television. His Science Fiction, Fantasy, and Horror short stories have appeared in several publications, including an Editor's Choice-winning short story at AnotheRealm.com. A Beginner's Guide to Invading Earth is his first novel.
You can connect with him at
GerhardGehrke.com
.
Twitter ~ Facebook ~ Blog
Buy the book at
Amazon
or
Barnes and Noble
a Rafflecopter giveaway