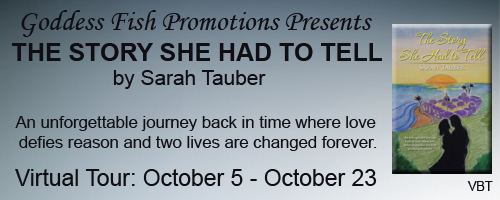 This post is part of a virtual book tour organized by
Goddess Fish Promotions
. Sarah Tauber will be awarding a $40 Amazon or Barnes and Noble GC to a randomly drawn winner via rafflecopter during the tour. Click on the tour banner to see the other stops on the tour.
The View Inside my Writing Space
This is my desk. The bust on the desk is "Sadie", my muse. Now that I think about it, I should have given her a more classical name, like Helena or Sophia. But Sadie it is.
After writing my first book almost two years ago on the computer in my husband's office, I declared that I needed my own space. "Sweetheart, can I just check my emails real quick?" he would occasionally ask and I would reluctantly agree. To avoid those interruptions in my creativity, I told him I needed an "office" of my own. Not completely understanding why, he acquiesced. Shortly thereafter I purchased this lovely old desk on Craig's list for $150. My husband had an extra desk chair which he donated to the cause. I purchased a refurbished computer, new monitor and an antique printer table (actually an old student's desk from several decades ago). My husband gave me the newer of our two printers as well as a desk lamp. After one trip to Target for supplies, I was in business! I knew exactly where I wanted to place it – in our entryway, in front of the windows that overlooked our courtyard and pool area. A lovely, peaceful view that would surely inspire my writing, along with Sadie, of course.
It was at this desk that I would write my first novel, "The Story She Had to tell." It was there that I conducted my research on early 1950s Havana and 1930s rural life in Liberty, Maine; the city where both Madeleine the main character and Madeleine my grandmother were born.
I don't always write there. If I get an idea I'll write on the back of an envelope or on a small notepad I thoughtfully brought with me to the doctor's office, dentist's office or car wash. But the desk is where I type it out, bring my words to life and where the fun is. By that I mean it is in that space where I can roll my desk chair over to the bookshelf, pick up my thesaurus, then roll back and do my word search. To me it feels like an artist creating their best work on canvas. I am creating a word painting, and words are the colors and shades of colors I use as my medium. It is my favorite part of writing and I believe the most rewarding. I can change out a word here or two words there and the sentence goes from an "okay" to a "wow!" Words are like that. You just have to find the right ones to best express your ideas.
The
view inside my writing space
really has two meanings. It speaks to my desk area, the place where I physically sit and write, but also the inside of my head, the place where all my words are born. I am not the kind of writer who can sit at the computer every day and create. It doesn't work that way for me. When I was writing my books I would work twice a week, on the days my mind was about to burst it was so full. On those days I would type anywhere from 2-3,000 words in one sitting. Because I worked that way, I almost never experienced "writer's block." Why sit down to write if you have nothing to say?
As it was, both of my books and many of my weekly blogs have poured out of me. I don't know where it all comes from – Sadie, God, my father in heaven who was also a writer? In the end, it doesn't matter. I am creating something and sharing it with the world. And along the way, I am filled with joy.
Madeleine had a secret, a story that happened over fifty years ago in Havana, Cuba. Before she died, she wanted to share her story with the world.

After growing up on a farm in Maine and graduating college, this intelligent but naive young woman traveled to Havana with a girlfriend, looking for adventure. What happened there changed Madeleine's life forever. From the moment she laid eyes on Carlos, she was turning over her fate to a man she barely knew.

This is a heart-wrenching love story that promises to stay with you long after the book is finished.
Enjoy an excerpt:
We continued to dance, and I continued to breathe him in. What are you doing, Madeleine? What do you expect out of this? You have had only one real boyfriend, a guy back home who wanted to marry you, but you felt nothing but friendship for him. And here is this amazingly handsome man with a Spanish accent who has swept you off your feet, but is it real, or am I going to discover later that I've made a terrible mistake? I'll discuss this with Georgiana tonight when we're back at the hotel and see what she says. She's more worldly than I am. She's probably had lots of boyfriends. She'll help me decide what to do. I'm only twenty-three. He must be at least ten years older than I am. Maybe he's a masher! Oh dear, now I am worried!
He walked me back to the table, kissed my hand and said he would see me tomorrow. I watched him leave the club. I sighed heavily.
I came back down to earth long enough to tell her that Carlos had invited both of us to go sightseeing tomorrow. "He said he would pick us up at 11:00 a.m. That will give us time to sleep in and have a late breakfast. Please say you'll join us. I don't really know him and don't want to risk going alone."
"Of course I'll go with you, if only to chaperone!"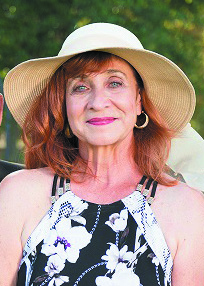 About the Author:
Sarah Tauber is a world traveler who retired three years ago from a corporate job to pursue her passions of dressage riding and writing. Her first book, "For Dear Life", is a memoir covering two years she lived in Tehran, Iran in the 1970's. It is available on Amazon.com, BarnesandNoble.com and Xlibris.com. The Story She had to Tell is her first novel. Sarah lives in San Diego County with her husband of ten years.
Website ~ Facebook ~ Goodreads
Buy the book at
Amazon
.
a Rafflecopter giveaway