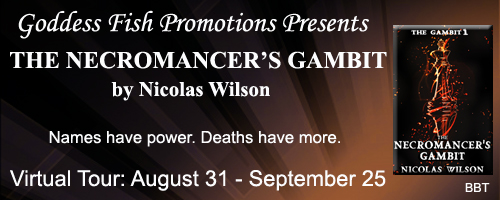 This post is part of a virtual book tour organized by
Goddess Fish Promotions
. Nicolas Wilson will be awarding a swag package with a pendant and bookmarks (US ONLY) to a randomly drawn winner via rafflecopter during the tour. Click on the tour banner to see the other stops on the tour.
Knight, the sheriff of a local magical government known as "the Gambit," is called to recover a mutilated body, tainted with magic and dumped at a popular haunt. When the corpse is identified as a close associate of the Gambit, it threatens the safety of the community he protects, and those he cares about most. As the fragile peace amongst the city's magic-wielding factions disintegrates, Knight must track down a cadre of murderers before his friends are picked off, one by one- with each death used to strengthen the spells cast against the Gambit.
Enjoy an excerpt:
Bishop spends a moment taking in the body, before she says, "I was thinking of getting some KFC. When you said you were bringing the new Rook, I thought we could split a bucket, but now, the smell of this- why go out when we can eat in?" Rook stares at her with wide eyes. "What, are we not laughing about that, yet?" Then she says, "Oh, right- she wouldn't know the story."
I take that as my cue to tell it- since Bishop only knows it secondhand, anyway. "Alfil, in one of his later in life oopsies- this was right before he retired- was supposed to check some decomposition for me, to see if it was natural or supernatural. Instead, he spent the better part of an evening performing a complex diagnostic spell on sliced, peppered turkey, while eating corpse, lettuce and tomato sandwiches. Really, he was lucky; he only got mild food poisoning. I get worse from the Chinese takeout down the street."
"I think that's because they age their corpses," Bishop says solemnly.
"How long you think it'll take to get an idea what we're looking at?" I ask her.
"I can tell you you're looking at a big burnt guy. If you want me to be able to point out more than roast chestnuts and a blackened tree stump, you'll have to give me a few hours."
"Cool." I check my phone. "It looks like Pawn's got his CI to the safehouse. Let us know when you've got something concrete."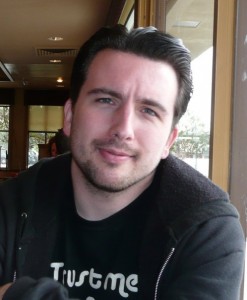 About the Author:
Nicolas Wilson is a published journalist, graphic novelist, and novelist. He lives in the rainy wastes of Portland, Oregon with his wife, four cats and a dog.
Nic's work spans a variety of genres, from political thriller to science fiction and urban fantasy. He has several novels currently available, and many more due for release in the next year. Nic's stories are characterized by his eye for the absurd, the off-color, and the bombastic.
For information on Nic's books, and behind-the-scenes looks at his writing, visit his website.
Website ~ Facebook ~ Goodreads ~ Twitter ~ Mailing List
Buy the book at
Amazon
,
Barnes and Noble
,
Drive Thru Fiction
,
Kobo
,
Smashwords
,
iBooks
, or
Google Books
.
a Rafflecopter giveaway