Enter to win a $50 Amazon or Barnes and Noble gift card - Flash Fiction from Lynda Simmons, author of LOVE, ALBERT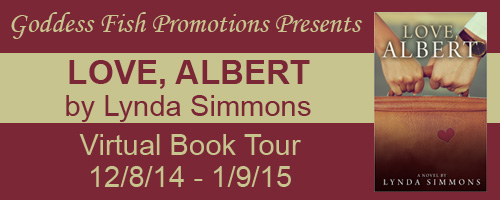 This post is part of a virtual book tour organized by
Goddess Fish Promotions
. Enter the Rafflecopter below for a chance at winning a $50 Amazon/BN gift card. Click on the tour banner above to see the rest of the stops.
Enjoy a special treat. The author has written flash fiction pieces-- here is the last installment. To read them in order, please go here:
Lynda's Facebook Page
.
Under the I
(With Bingo Lady, Joyce)
"What time is it?" Grace asks and I have to smile.
She's been one of my most successful participants, her assistance invaluable to the program.
"Four o'clock," she says, for what will probably be the last time. Today will see changes for everyone. It's taken some time, but we're ready to move into the next phase here at the new and improved Willow Tree Long Term Care, and I could not be more pleased.
We have a big group today and fortunately that nice male nurse, Dylan, knows exactly how I like things arranged. He has everyone seated with a bingo card taped to the table in front of them and a dauber near at hand. Right now it's a bit of a challenge to keep them from getting up and wandering off – Alzheimer's and dementia do take a toll on one's ability to concentrate – but once we get started that won't be a problem. I will have their full and undivided attention.
Honestly, I don't know how I managed before Dylan. The boy has been a godsend and I'll make sure he's properly rewarded for his dedication. I already have the new Director thinking about a bonus for him. All she needs now is a little help with the amount and Dylan will finally stop dreaming about Africa or Micronesia or anywhere else for that matter. He'll be mine forever. "We're all ready here," he calls, my cue to flick the switch and get the balls rolling, so to speak.
The setup is simple. I have one eighteen-inch round wire bingo cage, painted on either side with a black and white bullseye pattern. A spout on the bottom channels the balls into a neat, even row and all seventy-five balls are white. The game begins the moment the cage begins to turn, and ends when all the balls have been used. An uncomplicated system that has served me well for more than ten years.
He leaves to tend to other residents, I hit the switch and we're off.
The cage turns at a carefully controlled speed. Fast enough to draw the attention to the spinning bullseye pattern and hold it there, but slow enough to avoid headaches or a sensation of dizziness. The well-being of the participants is of utmost importance. I need them to keep coming back willingly, after all.
The balls begin to drop. "I want you to pick up a dauber. Feel the tension leave your body as you mark the card." It's true that you can't hypnotize someone to do something they would normally find objectionable. But you'd be amazed at what you can achieve by having a number of people perform small parts of a whole. And fascinated by the power of the subconscious in someone with dementia. I truly believe that once we get through this next round, we'll be able to work some miracles here at Willow Tree.
I move the balls across to the counter. "Concentrate on the sound of my voice."
Certainly, we've made sacrifices along the way, but in selecting our martyrs I did my best to bring a little joy to the sorrow. Like Edna, for instance. Her daughter was heartbroken when her mother passed so suddenly. But didn't that free up the money so she and her little family could take a holiday at last? And as much as I hated to think of poor Bernice out there dying in the snow, or dear Rick gasping out his last in the furnace room, I knew in my heart that the love blossoming between their spouses would finally have a chance to bloom and grow. Silver linings, silver linings.
The click of the balls relaxes even me. "Today, we move on. Exploring new avenues that will take us all in wonderful , unexpected directions."
If I'm guilty of a selfish act, it's Gina Baron, the former Executive Director. She was a demon that one, fighting me at every turn. All she had to do was sanction the introduction of hypno-therapy and none of this would have happened. But she was short-sighted, just like the doctor, but a much easier subject. I admit I enjoyed watching her slow descent into madness. Making the candles appear and disappear. Loading her drawers with strings of pearls she couldn't see was more fun than I've had in a long time. And the photographs of her mother? I probably stretched that out much longer than necessary just because I could.
More balls roll along the spout. "Grace, it's time to think about your daughter Margo." Pause. "Let Karen go, Grace. Let her go."
Of course, Gina is water under the bridge now, just like those folks who were inconvenienced by a bit of food poisoning. Sam n' Ella, nice couple but don't invite them to dinner, I like to say. No permanent harm, but enough to drive Willow Tree over the edge. Make them turn this into a better place.
And that new Executive Director is just lovely. A real treat to work with. She'll be so pleased when the cold spots and irritating odors disappear once that priest she called in finishes up. I want her to enjoy her office and her job. Honestly, if Dylan wasn't gay I'd set them up today. But like I said, you can't make a person do something under hypnosis that they wouldn't normally do. Pity really.
A tap at the door makes me jump, but it's only Grace's daughter waving through the window.
"Grace," I say. "Look who's here."
She turns her head.
"Now smile," I say, and she does. And doesn't Margo just beam. Her mother recognizes her, or she thinks she does which is all that matters. Joy from sorrow. That's my motto.
Margo moves along. The final ball drops into place.
Time to wrap things up.
"We need to focus on the doctor now," I tell them. "His time at Willow Tree is over."
Sometimes all love needs is a road trip, a rubber chicken and a touch of magic

Vicky Ferguson loves her husband Reid, always has, always will. But with two kids to think about, it's time for the free-wheeling, sports car loving pilot to put his feet on the ground and lay down some roots. Reid can't imagine life without Vicky but neither can he see himself pushing a lawn mower or driving a mini-van. They're on track to a divorce neither one wants until a last request from beloved Uncle Albert puts them on the road together one last time.
Enjoy an excerpt:
"Which brings us to the issue at hand," the lawyer said and opened a file. "I have here the last will and testament of Albert Ferguson. Handwritten but perfectly legal." He leaned down and picked up Albert's old leather suitcase. It was the only thing the old man ever carried – the true master of travelling light. Lyle set the case on the desk, undid the straps and slid back the zipper. Reached inside and came up with a pair of Groucho Marx glasses, complete with bulbous pink nose, bushy eyebrows, and a formidable mustache.
Reid sat forward. "Not the glasses," he said, a smile already tugging at his lips.
Lyle nodded solemnly and put them on, carefully adjusting the nose over his own before picking up the paper again. The lawyer's delivery was perfectly straight, if a bit nasal. "I, Albert John Ferguson, being of sound mind and body— "
Reid glanced over at Vicky. She was staring at the lawyer, eyes wide, lips pinched tightly together, holding back her laughter.
"Do hereby bequeath all my worldly goods to my favorite nephew and niece, Reid Allan Ferguson and Victoria Ann Ferguson, to be used as they see fit. This includes one hand buzzer, one whoopee cushion, one pair of Groucho glasses." He reached into the suitcase again. "One rubber chicken –"
"I'll take that." Vicky's face turned pink when the lawyer paused and looked at her over the nose of the glasses. "For the kids," she added, and turned to Reid. "Unless you want it."
"Not at all." He pointed to the suitcase. "But I've got dibs on the fl y-in-the-ice-cube."
"One fly-in-the-ice-cube," Lyle continued, and set it in front of Reid. "One can of worms—"
"Snakes," Reid cut in. "They're snakes."
The lawyer slid the can toward him and Reid popped the lid. Three long colorful snakes sprang from the tin and flew over the desk, squeaking as they bounced against the walls. "They were always his favorite." Reid smiled at Vicky. "Do you mind if I take them?"
She held up the whoopee cushion. "Not as long as I can have this," she said, and Reid understood why Albert had loved her, too.
"You can go through the rest on your own later," Lyle said, taking off the glasses and setting them aside. "But in return for his worldly goods, Albert has a favor to ask."
Reid raised his head. "A favor?"
"More of a decree really." Lyle cleared his throat and resumed reading from the will. "In return for my worldly goods, Reid and Vicky must promise to take my remains to Seaport, Oregon. "
The chicken's head bobbed as she sat up straighter. "But I thought he'd already been buried."
"Not quite." Lyle lifted a plain white shoebox out of the suitcase and set it on the desk in front of them. "He's been waiting for you."
Reid stared at the box. "That's Albert?"
"Ashes to ashes." The lawyer picked up the box. "I know it's not much to look at, but it's practical, sturdy, and holds up to five pounds of loved one, no problem." He looked from Reid to Vicky. "The point is Albert didn't want a fancy urn because he wasn't planning to spend much time in it anyway."
Reid shook his head. "I don't understand."
Lyle smiled. "Your Uncle Albert wants to fly one last time."
About the Author: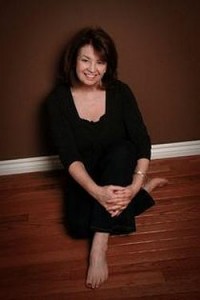 Lynda Simmons is a writer by day, college instructor by night and a late sleeper on weekends. She grew up in Toronto reading Greek mythology, bringing home stray cats and making up stories about bodies in the basement. From an early age, her family knew she would either end up as a writer or the old lady with a hundred cats. As luck would have it, she married a man with allergies so writing it was.
With two daughters to raise, Lynda and her husband moved into a lovely two storey mortgage in Burlington, a small city on the water just outside Toronto. While the girls are grown and gone, Lynda and her husband are still there. And yes, there is a cat - a beautiful, if spoiled, Birman.
When she's not writing or teaching, Lynda gives serious thought to using the treadmill in her basement. Fortunately, she's found that if she waits long enough, something urgent will pop up and save her - like a phone call or an e-mail or a whistling kettle. Or even that cat just looking for a little more attention!
Amazon Author Page:
http://www.amazon.com/Lynda-Simmons/e/B001KI3Z4O
Website | Goodreads | Facebook | Twitter
a Rafflecopter giveaway