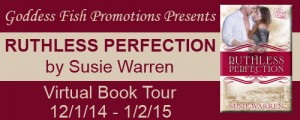 This post is part of a virtual book tour organized by
Goddess Fish Promotions
. Susie will be awarding a $50 Amazon gift card to a randomly drawn winner via rafflecopter during the tour. Click on the tour banner to see the other stops on the tour.
A Day with Susie Warren
My day starts before 6:00 a.m. I typically wake up before the alarm on my iPhone. I slowly stretch and listen for any noise in the house. If it is completely quiet then I get out of bed making as little noise as possible. I know it will be a peaceful morning if my terrier is sound asleep in his dog bed as I walk into the kitchen.
I make Starbucks dark roast coffee in a French press and let the cat in and the dog out. I give the dog his favorite food on the side porch and hope that he is happy enough that he will give me an hour. The cat eats and heads to the sofa.
I wake up my teenaged son and make sure he gets out of bed.
I take a hot cup of coffee to my office and briefly check Facebook and Twitter as I consider whether to begin writing or post. I spending two or three minutes on planning, I come up with a scene suggestion. I make sure I can hear sounds of movement from upstairs and begin to write.
At 6:50 a.m., I start the car, remind my son he has five minutes and make him a simple breakfast. He gathers his backpack and laptop and we head outside. His bus stop is four minutes away by car and while he eats, I remind him of any schedule issues for the day.
By 7:00 a.m., I return home and hope everyone is sleeping. I drift back into writing and depending on how the scene is developing; I stop writing about 7:45 a.m. and wake up my daughter and husband. It drives them crazy if I delay until 8:00 or 8:15 a.m.
By 8:30 or 8:45, I leave the house with my daughter for my day job. I'm lucky that it is only 3 blocks away and that my daughter attends the small school where I work as a Financial Director. We walk in together and she heads off to the upper school building while I head into the main brick building and climb the stairs to the second level of administrative offices.
My day is often hectic and intense as a constant flurry of staff and parents stop by with issues or suggestions. In between interruptions, I spend time crunching numbers and creating financial projections. Across from my office, I can see into the office of the lower school administrator and we keep up a steady banter of comments and questions all day long.
By 4:00 p.m., I return home or head to the bus to pick up my high schooler. Homework, phone calls and taking care of the pets takes over until we sit down to dinner at about 6:00 p.m. On a good day, I'll have made something nutritious or if it was crazy then my husband will pick up takeout.
At 9:00 p.m., the children head upstairs and I'll go back to my home office for another hour or so of writing.
My husband usually waits up for me and is flipping channels or checking email on his laptop as I crawl into bed exhausted.
A filmmaker wanting to honor her family's legacy approaches a reclusive billionaire for help

Isabel Neri's innocence captures the attention of a well-known Italian marble mogul, Marc Santoro, when she approaches him against her family's wishes. Wanting to honor her disgraced grandfather, Isabel needs Marc's permission to produce a film about the Carrara marble industry.

Faced with honoring an old family obligation, Marc allows Isabel to travel to Italy with him but seeks to limit her exposure to his family's tragic past. Isabel discovers the untold story and challenges Marc to reveal the truth. She is forced to expose her own secret as their desire sparks out of control.
Enjoy an excerpt:
Isabel felt a moment of panic as she watched the driver make a swift exit. She carefully walked up the stone path that led to the front door, being careful not to catch her black Manolo Blahnik heels in the stones.
The front door swung open and Isabel felt the oxygen leave her body. She wasn't prepared for seeing Marc Santoro in the flesh again. She could feel his gaze rake over her in appraisal, apparently sizing her up. He looked every inch the wealthy business owner: he was dressed in an expertly tailored gray shirt with slightly darker gray trousers that were pressed to exactness. He was even more striking than she remembered, and she reminded herself to just breathe and focus on her pitch.
It was his intensity that she responded to; he seemed to be absorbing everything about her. Isabel hid her expression as she acknowledged to herself that while he may appreciate her outward appearance, he wouldn't appreciate her damaged body.
Would he remember meeting her before?
She forced herself to reach out and offer her hand. As his warm fingers enveloped hers, she felt a spark of attraction travel through her body. She immediately pulled back, but not before she saw his eyes darken.
He merely smiled at her reaction, saying, "So you are not just a figment of Alberto's imagination." Guiding her inside, he added, "I was beginning to doubt that the old man had any relatives interested in the marble trade."
Isabel felt her spine stiffen. Was he questioning her family's loyalty?
"My grandfather speaks very highly of you," Isabel said as she took in the luxurious setting, trying to get her bearings.
His voice was cool and didn't give her any clue if he welcomed her visit. "It isn't often that Alberto Neri asks for a favor."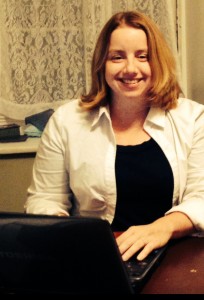 About the Author:
Susie Warren writes contemporary romance. Besides being an avid reader, she spends much of her free time crafting intense and complex stories about falling in love. When she is not writing, Susie works as an administrator in a small, independent school while caring for three teenagers and keeping tabs on her inventor husband. With the launching of her first book,
The Forgotten Heiress
, she has slowly begun to navigate the social media realm. Susie loves to hear from readers and responds to each email and Facebook post. Please reach out to her via
Facebook
or Twitter @susiecwarren For more information on her upcoming releases, new excerpts and other related postings, or to sign up for free promotions, please visit
www.SusieWarren.com
. Buy the book at
Amazon
.
a Rafflecopter giveaway