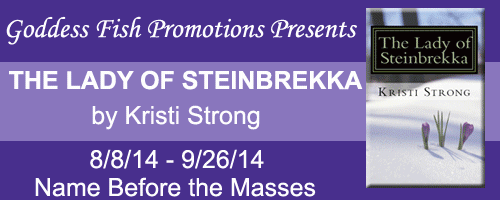 This post is part of a virtual book tour organized by
Goddess Fish Promotions
. Kristi will offer a signed paperback copy of The Lady of Steinbrekka, along with a Land of Kaldalangra bookmark prize pack. Click on the tour banner to see the other stops on the tour.
Hi everyone, and thanks to Welcome to My World of Dreams for having me here :) My name is Kristi Strong, and I am the author of the
Land of Kaldalanga
series and my new stand-alone YA novel,
Finding Keepers
. Reading has always been my entertaining, therapy, and joy, and here are my top ten authors!
Top Ten Authors
1) Anne Bishop - I discovered Anne Bishop when I was in college, and fell in love with everything she had published. I would haunt the local bookstore, fingers crossed that a new book from her would be on the shelf. I love how her books can be an entertaining read, but also have many deeper issues if you read between the lines.
2) Sarah Douglass - Sarah Douglass's books were discovered about the same time as Bishop's, and I scarfed them up enthusiastically. Her fantasy worlds are so complex that you can read her books countless times and still discover something new.
3) Kristina Circelli - Kristina and I met when we were both engaged and became friends over forums. Several months later, she published
Beyond the Western Sun
, and I was sold. Her
Whisper
series is a thrilling blend of Native American storytelling with fantasy, but in a contemporary setting. I now have every book she has written, and eagerly await every new release she brings.
4) Bethany Lopez - Bethany is one of my newer author discoveries, and I love her
"Friends and Lovers"
series to pieces. She has such a way of writing that you get sucked in, easily feeling like one of the gang, and having every emotion they feel run through your own heart.
5) Sue Monk Kidd - I was in high school when I discovered
The Secret Life of Bees
, and was later blown away by
The Mermaid Chair
. I love her style of writing and the way she addresses difficult aspects of life and society.
7) Anna Maxted - My first Anna Maxted book was picked up over ten years ago at a local book fair for $2 (back before e-books existed, so a $2 book was HUGE). I never read contemporary before, but her books were a fun look at contemporary life and I immediately ran to the store to buy every one available.
8) Jacqueline Carey - Her books shocked me the first time I read them, but then I fell in love. Carey weaves such an incredibly complicated story, and the deeper into her world you go, the more you want to stay there forever. These are also books you can read over and over, always discovering something new.
9) Juliet Marillier - She is one of the big inspirations for my series. When I first started the
Sevenwater
's series, I started with the third book (and most recently published, at the time). I then read the second, and then the first. There are few things I like more than a series that can be read out of order and still thoroughly enjoyed!
10) Marian Zimmer Bradley - Hers were among the very first fantasy novels that crossed my fingers, and I fell in love with them almost immediately. Steeped in history and folklore, fantasy woven in reality, I couldn't get enough of the words she put onto page.
There you have it, my top ten authors!
Who are your favorite authors?
Rhea Aralia lived an uneventful life in Virginia, until the fateful night of her kidnapping. Taken to a strange realm of destruction, despair, and mysterious people with dark secrets, the young woman must learn a new way of life to survive.

With the help of her new companions, Rhea discovers the courage to defy the tyrant King Verikhan and his heir, the cleverness to deceive the court, and the power within herself to transform this world of darkness into one of beauty and hope.

Will Rhea triumph over those who seek her destruction, or will she be forever lost in the darkness known as Kaldalangra?

Join Rhea as she fights to take destiny back into her own hands.



***********



It has been two years since the reign of the tyrannical King Verikhan has ended, and the realm of Kaldalangra flourishes.

Nyssa has taken her place as Queen of the realm, with her secret love, Sebast, now openly at her side. She rules with a fair hand, striving for justice and prosperity for all of her people.

Rowan and Rhea travel the realm, spreading peace and healing wherever they go. In Kylassame, they have formed a strong bond with friends and spread deep roots in the community.

The people of Kaldalangra are joyful, and life in their world is better than ever before.

But a string of tragedies has the ability to bring Rhea to her knees, and with her, the entire realm. While Rowan struggles to recover the village of Kylassame from a devastating crime, Rhea's faith in her own strength weakens, with dire consequences.

Re-enter the world of Kaldalangra, and join the adventure as Rhea and Rowan endeavor to continue upon their chosen destiny.



***********



In the land of Kaldalangra, one woman stands at a crossroads

Sabina de Nespa has known a life of freedom and peace, thanks to the actions of her heroic parents. As a child of royalty, she has kept her intentions pure and her heart guarded, always aware that the crown of the realm may one day rest upon her brow.

When two strangers stumble across her path, she finds her peace shattered as dangerous family secrets begin to emerge, along with a malignant force that threatens to destroy her entire world. These men have the ability to help her rise to brilliant heights, or cause a devastating plunge into darkness.

It is now up to Sabina to continue her parents' legacy of honor, courage, and strength through adversity. With the fate of Kaldalangra upon her shoulders, she has vowed to follow the path of righteousness, or die trying.
Enjoy an excerpt from
Soul of Asimina
Katrina sat next to their father, her face even paler than usual and eyes red from terror-induced tears. Her friends had been forbidden to speak with her until this drama played out, and for Katrina the feel of being a pariah had been nigh unbearable.
Sabina placed a hand on her sister's shoulder and leaned forward to whisper, "We are strong. We will rise. We are the rightful children of this realm and we will not lose our place to lies and manipulations."
"Pretty speech." The unfamiliar male voice whispered from the empty seat to her left.
She looked over quickly and jumped in her seat, grateful that her family's attention had been transferred to the arena as Lasarre and Darian walked through the wide doors.
Blue eyes looked down at her and a chilling smile played across his crimson lips. "Blood will flow today. I can smell it. It has been a long time since a fight to the death occurred in this arena. Too long since the sand was heavy with its weight, the air filled with its metallic balm."
A soft, mournful feminine voice spoke from beside him. "It should never have flowed in the first place, my love."
Both Sabina and her grandfather turned to see her grandmother, Sula, sitting regally beside Nyssa. They looked like mirror images, though her father had been the child to inherit his mother's green eyes. She felt the ghost-man beside her grow rigid with shock. Terror and panic pulsed from his image in waves, the air shimmering in its wake.
"Sula," he whispered. "My love."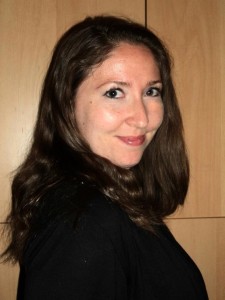 About the Author:
Fixing broken computers, wrangling a very spirited little toddler, and creating a world with a tyrant king, are all parts of the average day for Kristi Strong. While she has called Virginia her home for two decades, her head has rested in two countries, three states, and far too many houses to count. She was more than happy to give up her nomadic lifestyle and settle down with her husband, daughter, cat and chinchilla.
While attending James Madison University, she was given the rare opportunity to work as part of an archaeological team on a variety of dig sites in Virginia, including the homes of former Presidents, James Madison and George Washington, civil war sites such as The Stevens' House and Fort Evans Mississippian Encampment, and a variety of pre-historic hunting sites and camps.
Kristi now uses her extensive studies in human cultures to create her own world in her fantasy novels, beginning with her debut novel,
The Lady of Steinbrekka
, and continuing with
Heart of Kylassame
and
Soul of Asimina
.
Blog ~ Twitter ~ Facebook
Buy
The Lady of Steinbrekka
at
Amazon
,
Barnes and Noble
or
in print
.
Buy
Heart of Kylassame
at
Amazon
,
Barnes and Noble
, or
in print
.
Buy
Soul of Asimina
at
Amazon
,
Barnes and Noble
, or
in print
.
a Rafflecopter giveaway