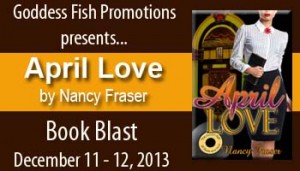 EXCITING NEWS!!! During the course of this tour, April Love is free, with the other books in the series on sale for only $0.99 each.
This post is part of a virtual book tour organized by
Goddess Fish Promotions
.
April Love
is the fourth book in the
Golden Decade of Rock and Roll
series, which includes
Love Is a Many Splendored Thing
,
Love Me Tender
, and
Wake Up, Little Susie
. One randomly drawn commenter will win the right to have a character named after them in Book 5 of the Series, plus a copy of the book in which they are named, as well a copy of the first three novellas in the series.
Eleanor Martin is every company's dream employee. She arrives early, stays late and never misses a day. If it weren't for Eleanor's skill as a private secretary, her architect boss would never make a deadline. Not only does she keep him on track, she runs interference between him and his over-bearing mother, his deadbeat brother, and the half dozen or so women who want to bed him and/or wed him.

When Jess Norton acquires a new client who asks him to build a palatial hideaway on Grand Cayman Island, Jess is certain he'll never be able to complete the multi-million dollar job without the help of his efficient secretary. Despite her reservations, he convinces Eleanor to accompany him on the assignment of a lifetime.

The sun and the sand cast the perfect spell for romance But will the tides turn in the opposite direction?/blockquote>
Here's an excerpt for your enjoyment:

Jess sat at the breakfast table the next morning, his back to the wall, his gaze set on the entrance way to the café. Eight-thirty, their set meeting time and still Eleanor had not arrived. She'd never, ever been late before and, not for the first time since last night he cursed himself for his moment of weakness.

He'd watched her as she'd left the cabin on her way to the beach, startled to realize that under those stuffy suits she wore, Eleanor possessed a body most women would envy. Long legs, adequately definable hips, a small waist, and breasts lush enough to fill a man's hands. Her charmingly unruly hair had glistened like a shiny cloud of curls in the dying sun. He'd told himself right then and there to turn back to his work and away from the window. And he had, for all of five minutes.

Then, like the idiot he was, he'd donned his own suit and followed her into the ocean. He certainly hadn't intended to kiss her, at least not consciously. Yet, there she'd been, wrapped in his arms, her violet gaze locked on his, her body trembling from fright and he'd taken advantage of the situation, advantage of her. He'd been, in his own estimation, a Class A jerk.

Drawn from his self-deprecation by the sound of voices near the hostess' desk, Jess looked up. Eleanor was winding her way through the maze of tables, her expression almost stoic, her professional armor fully in place. Gone was the flirty sundress, replaced by a navy skirt, starched white blouse, string of pearls and her standard-issue, granny tight bun at the back of her head.

Gone was the beautiful woman he'd kissed in the moonlight, replaced by his ever-efficient secretary.

"Good morning," she said, taking a seat opposite his.

"Good morning."

The waitress came to pour coffee and deliver menus and Jess welcomed the diversion. He'd not yet decided how to broach his inexcusable behavior, no matter how many times he'd played the evening over in his head. Unfortunately, in place of an acceptable excuse, he'd only found the memory of her kiss, the taste of her lips, and the feel of her body pressed against his own.

"What time are we due at Mr. MacKenzie's?" she asked.

"Ten-thirty."

She was offering him a way out, he realized, by jumping right into business. Thankfully, he accepted her unspoken offer. For the time being at least. Eventually, he realized, they would have to address the issue of the kiss.

About the Author: Like most authors, Nancy Fraser began writing at an early age, usually on the walls and with crayons or, heaven forbid, permanent markers. Her love of writing often made her the English teacher's pet, which, of course, resulted in a whole lot of teasing. Still, it was worth it.

When not writing (which is almost never), Nancy dotes on her five beautiful grandchildren and looks forward to traveling and reading when time permits. Nancy lives in Atlantic Canada where she enjoys the relaxed pace and colorful people.



Website ~ Blog ~ Twitter ~ Facebook





ON SALE FOR $0.99 EACH DURING THE TOUR:


Love Is A Many Splendored Thing
Love Me Tender
Wake Up, Little Susie
a Rafflecopter giveaway