It's SUMMERTIME! And to celebrate, I made something special for you:
I had the most fun today. As most of you know, I love the beach. I like most everything about it... the waves, the sunshine, the salt air. I enjoy laying in the sun and reading, swimming in the water, even playing in the sand. However, there are things I don't like about it: sand in every crevice, being hot (well, I know I am, I can't help that, but I meant sun-wise ;-)). I was able to do something special today...I built myself a sandcastle and I didn't have to get hot, sandy, sticky or sweaty to do it! I was able to sit in the comfort of my living room. Go and check this site out:
Build A Sandcastle
. There are so many forms and accessories you can use. If you have a little one in your house, they would love moving the stuff around too. I only wish I could make sandcastles this good in real life. Alas and alack (is that a real word?), the best I can manage is something like this: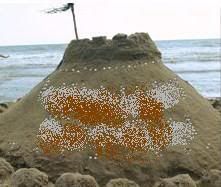 Go to "the beach" and have fun making your own sandcastle. Email it to me at maracujabr at hotmail dot com. I would love to see your creations!