You may remember I mentioned
restoring an old desk
my grandfather had made. I neglected to make pictures of the desk before we started, but I did manaage to get a picture of the chair.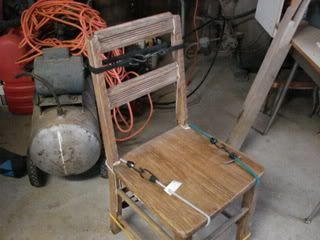 Once all
the "antiquing" was stripped away, we discovered the desk was made of several different grains of wood so, instead of just varnishing it, we decided to paint it black. Here is my new "office." Enjoy the way it looks now... I have the feeling that it won't be long before it's as cluttered as our other workspace!!!
We are hoping to get a bookshelf built for the area just to the left of the desk. That will take my research/writing books off the desk and give me more room to .... hmmmm... work.
***
I was thinking earlier about blogging. Several (probably way too many) blogs I visit on a daily basis. There are still others I pop in on at least once a week. People get to be like old friends you want to catch up with. I wondered why I enjoy bloghopping so much and I came to this conclusion:
I'm a fairly social person. DH, on the other hand, is pretty much a loner, reclusive to an extent. Even though I'm social, I don't really like to go out on my own... I enjoy being with my husband. Blogging kinda fills the social aspect of my life. I get to visit with friends, share what's going on in my life, and be a part of "community" ... all without leaving the comfort of my home. How cool can that be? It's a win-win situation. I can enjoy my friends AND hang out with my husband... all at the same time.
How 'bout you? What about blogging appeals to you?