Happy Friday, all. We stayed an extra day down at the coast. Didn't get a lot of fishing done... as a matter of fact, we didn't even put the boat in the water (and,
Jessica
, we have four boats: a canoe, a 12' foot aluminum boat, a 15.5' bass boat, and an 19' off-shore boat. My hobbies are reading, cooking, crocheting, photography; Bob's is buying boats and fixing them up). We did do a bit of surf fishing... but more about that in a bit.
Bob bought me a new camera for Christmas and I played around with it over our holiday. It was a lot of fun and I wanted to share some of the photos with you. (I guess this is the modern day equivalent of inviting someone over to view your vacation slides... lol).
The first evening we were there, we drove over the bridge into Apalachicola at sunset. It was so beautiful, I made Bob pull over to the side so I could play "photographer."
One thing I enjoy so much about the camera is it has a GREAT 12X optical zoom. The next is the same shot... only with the zoom.
It also has a feature where action photos can be taken with no blurring (fast shutter, I think.... after all, I'm still learning... lol). Here's a picture of the surf on St. George Island.
We met a friend on the beach. He just stood around waiting for us to throw him pieces of shrimp. The one fish we caught, he tried to steal off my line. He was so patient, I gave it to him when we left (it was more trouble than it was worth to clean ONE fish!)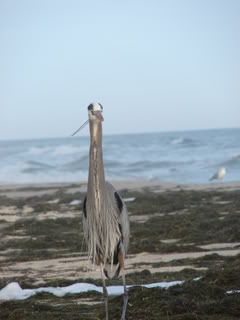 We got right back to work, though, as soon as we got home. We left this morning about 8:30 and it's now nearly 6:30. Just wanted to give y'all a little idea about what we do when we are out and about (plus it gave me the chance to use the video feature on my camera!) I really hope the video comes out okay. I might need to load it to YouTube first. This is a learning process for me.
Did I happen to tell you how very much I enjoy my new camera?